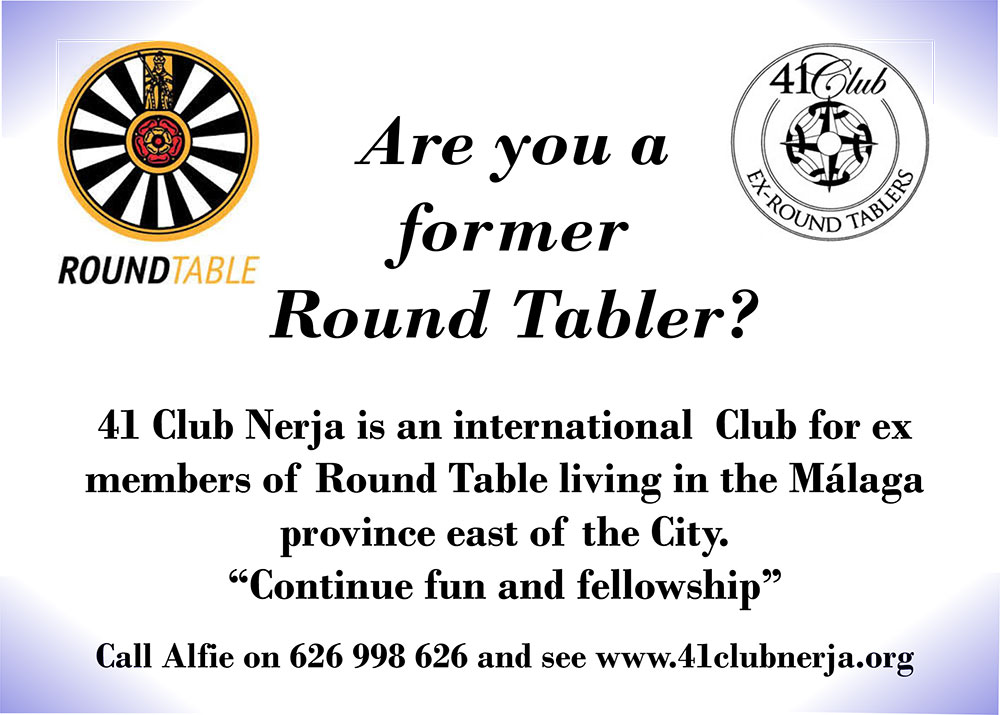 41 Club Nerja
CLUB NAME:
EAST OF MALAGA 41 CLUB (NERJA 41 CLUB)
REGISTER NUMBER: Registro de Asociaciones de Andalucia – 11422. CIF no: G93346393
CONTACT NAME: Chairman Mike Proctor/Membership Officer Alfie Fornear.
CONTACT NUMBER: 648793768 (Mike) 626998626 (Alfie)
CONTACT EMAIL ADDRESS: 41@41clubnerja.org Please could you also include our website which is a further means of contact www.41clubnerja.org
ADDRESS: Asoc. 41 Club Nerja c/o Hotel Al-Andalus, Calle Siroco num. 1, Maro, ES-29787 Nerja (Near the caves of Nerja)
BRIEF DESCRIPTION: Are you someone who enjoyed Round Table? We are an Ex Tablers Club (41 Club) offering continued FUN and FELLOWSHIP beyond Round Table. We cover all towns and villages East of Malaga as far as Motril and environs. We look for people living full and part time in this area. We are a true international club with members from Belgium, Sweden, Finland, Austria as well as England, Ireland, Scotland and Wales.
Meetings take place twice a month with a 'Munch Bunch' lunch with our partners on the first Thursday of the month when we meet at 1.30 pm in one of the many restaurants in our catchment area to enjoy a reasonably priced meal. The Club meeting takes place on the third Thursday of the month at Hotel Al-Andalus, Maro. We also enjoy sauna nights at the home of one of our Swedish members when he is in residence in Spain. Further events planned for the coming year include a Ladies Night, Burn's Supper, St Patrick's Day event, a BBQ at the home of our Chairman and much more.
NEXT EVENT/NEWS: