In today's digital age, internet speed is a crucial factor that directly impacts our online experience. Whether it's streaming videos, playing online games, or conducting business operations, understanding internet speeds and bandwidth is essential.
Here we'll attempt to demystify internet speeds, explore the concept of bandwidth, and discuss its impact on various online activities.
What is Internet Speed?
Internet speed refers to the rate at which data is transmitted from the internet to your device and vice versa. It is typically measured in terms of download speed (data received) and upload speed (data sent). Internet speeds are expressed in megabits per second (Mbps) or gigabits per second (Gbps). Higher speeds indicate faster data transfer rates, enabling quicker access to web pages, smoother streaming, and faster file downloads.
Understanding Bandwidth
Bandwidth refers to the maximum amount of data that can be transmitted over an internet connection in a given time period. It determines the capacity of the connection and impacts the potential speed it can achieve. Bandwidth is typically measured in terms of bits per second (bps). The wider the bandwidth, the more data can be transmitted simultaneously, resulting in higher potential speeds.
Factors Affecting Internet Speed and Bandwidth
Connection Type: Different types of connections, such as fiber-optic, cable, ADSL, or satellite, have varying speeds and bandwidth capabilities.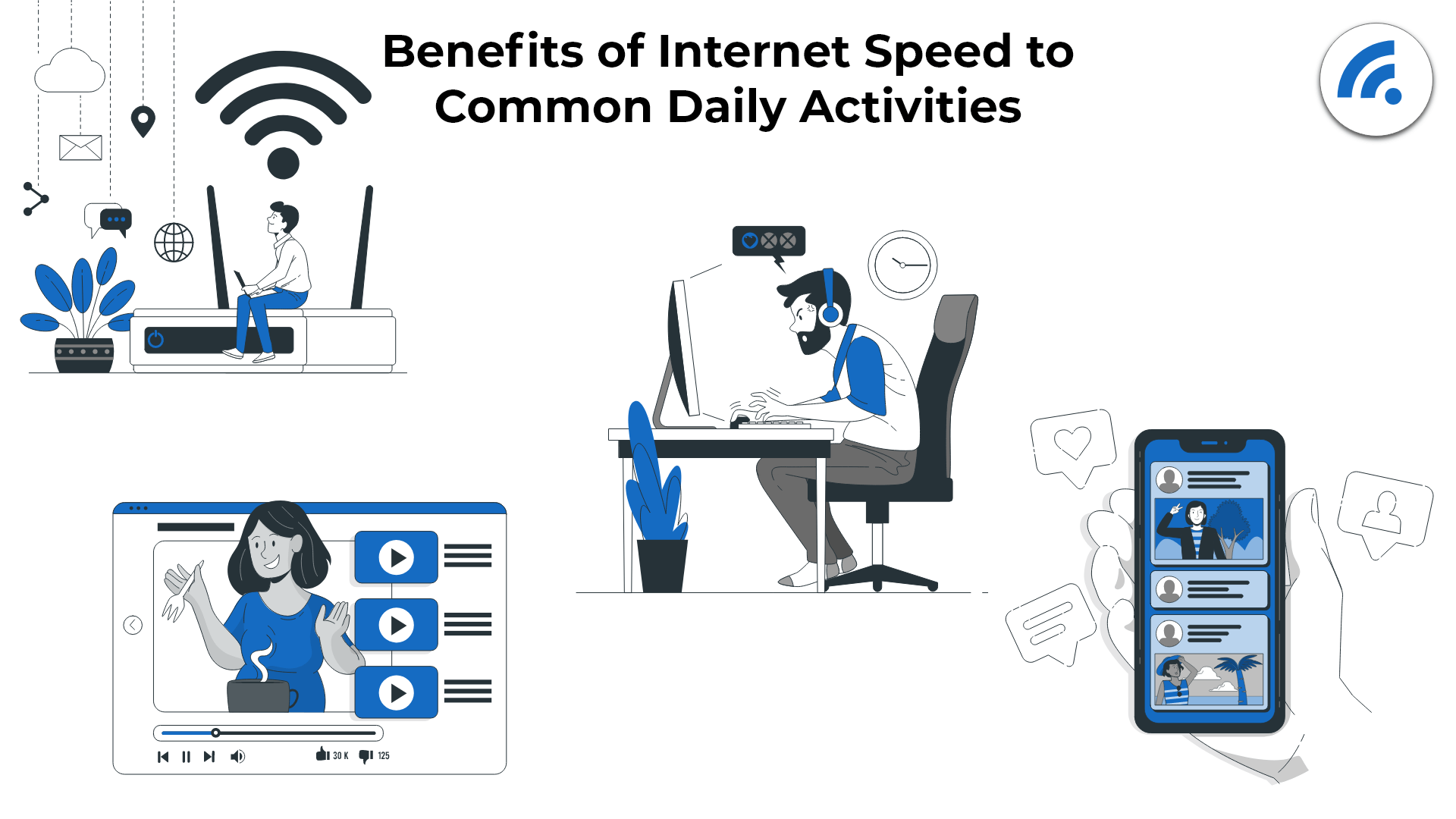 Internet Speed Requirements for Various Activities
Different online activities have varying internet speed requirements. Here are some examples:
Web Browsing and Email: Basic web browsing and sending emails require relatively low speeds, typically around 1-5 Mbps.

Video Streaming: High-definition (HD) video streaming on platforms like Netflix or YouTube may require speeds ranging from 5-25 Mbps, depending on the desired quality.

Online Gaming: Online gaming generally requires low latency and consistent speeds, with recommended speeds varying from 3-25 Mbps, depending on the game and platform.

Video Conferencing: Video conferencing applications like Zoom or Microsoft Teams typically recommend speeds of around 2-10 Mbps for smooth video and audio communication.
Internet Speed Tests
To determine your current internet speed, you can perform an internet speed test using various online tools. These tests measure your download and upload speeds, as well as other factors like latency and ping. Speed tests can provide valuable insights into the performance of your internet connection, helping you identify if you're receiving the expected speeds based on your subscription.

Choosing the Right Internet Plan
Understanding your internet speed requirements is crucial when choosing an internet plan. Consider the activities you frequently engage in, the number of devices connected, and the number of users. Higher bandwidth plans are recommended for households or businesses with multiple users simultaneously engaging in bandwidth-intensive activities.
In conclusion, internet speed and bandwidth play a significant role in our online experience. By understanding these concepts and assessing your internet needs, you can choose an appropriate plan that delivers the necessary speeds for your desired online activities. Regular speed tests can help you monitor the performance of your connection and ensure that you're getting the expected speeds from your internet service provider.

https://www.facebook.com/TelitecMarketing/