As we continue to push the boundaries of technology, it's never too early to start exploring what lies ahead in the realm of mobile communication. While 5G is still being adopted worldwide, the next generation of wireless technology, 6G, is already on the horizon.
Here we'll take a medium-deep dive into the possibilities and potential of 6G, shedding light on what's next for mobile communication technology.
Beyond Speed and Capacity
While 5G brought us unprecedented speeds and increased network capacity, 6G aims to take connectivity to new heights. With the promise of even faster speeds and lower latency, 6G is expected to deliver a level of performance that will open doors to transformative applications and services. From virtual reality (VR) and augmented reality (AR) experiences to immersive gaming and real-time interactive communication, 6G has the potential to reshape the way we live, work, and connect.
Hyper-Connectivity and Seamless Integration
One of the key objectives of 6G is to create a hyper-connected world where devices seamlessly communicate with each other, forming an intricate web of connectivity. Imagine a future where not only smartphones, tablets, and computers are connected but also vehicles, wearables, smart home devices, and even everyday objects.
6G aims to bring together different technologies and industries under a unified communication framework, enabling a new era of integrated and intelligent systems.
Intelligent Networks and Edge Computing
6G envisions networks that are not just fast and reliable but also intelligent. With the integration of artificial intelligence (AI) and machine learning (ML) algorithms, networks will have the capability to analyze data in real-time. They can adapt to changing conditions, and optimize performance accordingly. This intelligence will also extend to edge computing, bringing processing power closer to the devices and enabling faster response times and more efficient data management.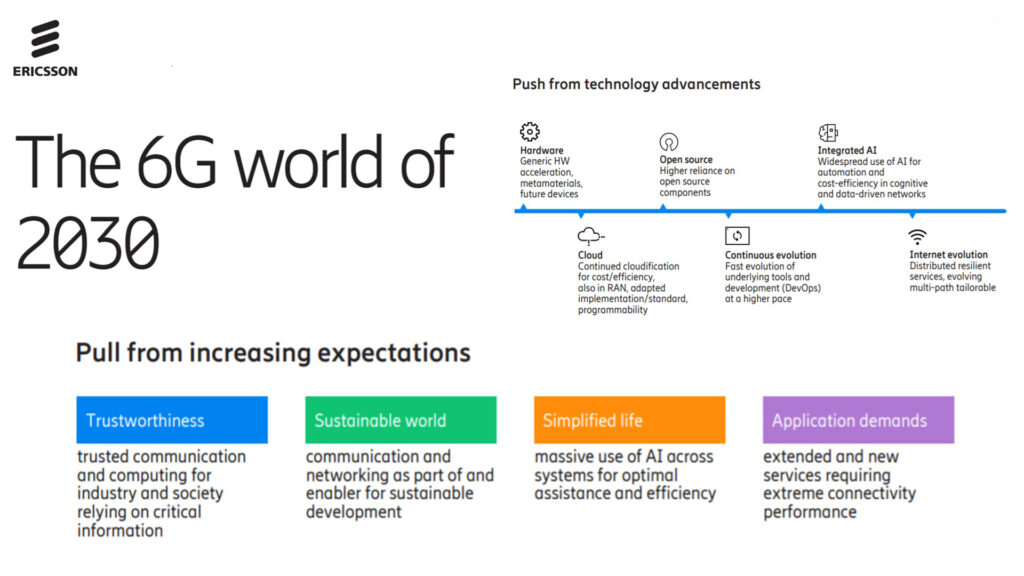 Tackling Global Challenges
6G is not just about faster downloads and improved connectivity; it also holds the potential to address some of the most pressing global challenges. From healthcare and transportation to energy and the environment, 6G can facilitate advancements in areas such as remote medical procedures, autonomous vehicles, smart grid systems, and sustainable solutions. The ability to connect billions of devices seamlessly and share vast amounts of data can fuel innovation and collaboration on a global scale.
Security and Privacy
As connectivity expands and data becomes more abundant, security and privacy will be critical considerations for 6G. Efforts will be made to develop robust security protocols, encryption mechanisms, and privacy frameworks to ensure the integrity and protection of data. Additionally, 6G is expected to bring advancements in user authentication, biometrics, and secure communication protocols, bolstering the overall security of the network.
Collaborative Development
The journey towards 6G is a collaborative effort involving industry leaders, researchers, and policymakers worldwide. Governments, academic institutions, and private entities are investing in research and development to drive the evolution of mobile communication technology. International cooperation and standardization will be crucial in shaping the future of 6G, ensuring interoperability and global adoption.
While it will be several years before 6G becomes a reality, the excitement and anticipation for its potential impact are already building. From hyper-connectivity and intelligent networks to tackling global challenges and ensuring security, 6G holds the promise of a future where connectivity is seamless, innovation is boundless, and the possibilities are limitless.
As we continue to explore and unlock the potential of 6G, the world of mobile communication technology is poised for yet another transformative leap.

https://www.facebook.com/TelitecMarketing/