The rise of smartphones has revolutionized the way we live and interact with the world, and one area where their impact has been particularly profound is in the realm of e-commerce.
Mobile shopping, or 'M-commerce', has seen explosive growth in recent years, with more and more people embracing the convenience of shopping on their mobile devices.
Here's a quick look at the growing influence of mobile shopping and its implications for consumers and businesses alike.
The Convenience Factor
Mobile shopping offers unparalleled convenience. With just a few taps on a smartphone screen, consumers can browse through a vast selection of products, compare prices, and make purchases from anywhere, at any time.
Whether you're sitting on the sofa at home or waiting for a bus, the ability to shop on the go has made the purchasing process more seamless and effortless than ever before.
The Ubiquity of Mobile Devices
Smartphones have become an indispensable part of our lives, with the majority of people carrying their devices with them wherever they go.
This has made mobile shopping accessible to a larger audience, transcending geographic boundaries and time constraints. It has opened up new opportunities for businesses to connect with consumers on a global scale, reaching them at the right moment when they are most receptive to making a purchase.
Enhanced User Experience
The user experience of mobile shopping has significantly improved over the years. Retailers and e-commerce platforms have invested heavily in optimizing their websites and apps for mobile devices, ensuring seamless navigation, intuitive interfaces, and secure payment options. The integration of features such as product recommendations, personalized offers, and easy-to-use search functions has made mobile shopping an engaging and tailored experience for consumers.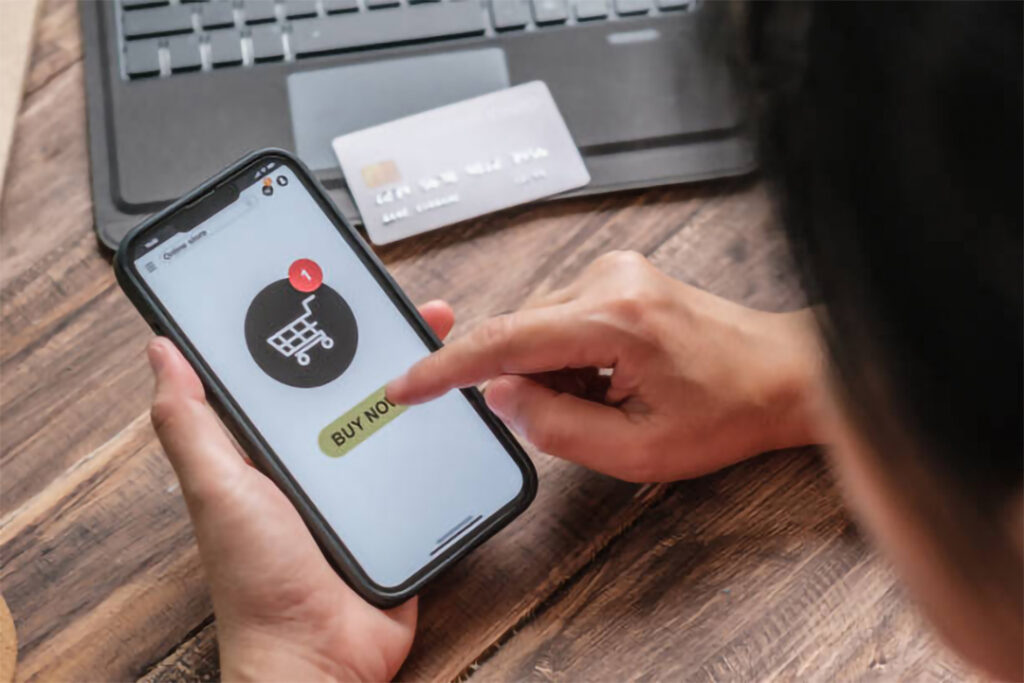 Mobile Wallets and Payment Innovations
Mobile wallets, such as Apple Pay, Google Pay, and Samsung Pay, have streamlined the checkout process and provided an extra layer of security. These digital payment solutions have gained widespread acceptance and allow users to store their payment information securely and make purchases with a simple tap or fingerprint recognition. The convenience and speed of mobile payments have accelerated the growth of M-commerce and have helped build trust among consumers.
Social Commerce and Influencer Marketing
Social media platforms have evolved into powerful channels for mobile shopping. The integration of shopping features within platforms like Instagram and Facebook has transformed social media into virtual marketplaces. Users can discover products, read reviews, and make purchases seamlessly without leaving the app. Influencer marketing, where popular social media personalities promote products, has also played a significant role in driving mobile shopping by leveraging the trust and influence of these individuals.
The Future of Mobile Shopping
The influence of mobile shopping is only set to grow further in the coming years. As technology continues to advance, we can expect more innovations such as augmented reality (AR) and virtual reality (VR) experiences, voice-activated shopping, and even more personalized and immersive mobile shopping experiences. The boundaries between the physical and digital retail worlds will continue to blur, creating new possibilities for businesses and enhancing the overall shopping experience for consumers.
In Conclusion
Mobile shopping has emerged as a dominant force in the world of e-commerce. The convenience, ubiquity, enhanced user experience, and innovations in mobile payments have fueled its rapid growth. As businesses adapt to this shifting landscape, it is essential for them to prioritize mobile optimization, seamless user experiences, and the integration of emerging technologies to meet the evolving demands of mobile shoppers. For consumers, the world of shopping has never been more accessible, empowering them to make purchases on the go with ease and confidence.

https://www.facebook.com/TelitecMarketing/