Here are just a few Summer Salads I will be trying out this year. They look delicous and tasty, plus will go great with any BBQ.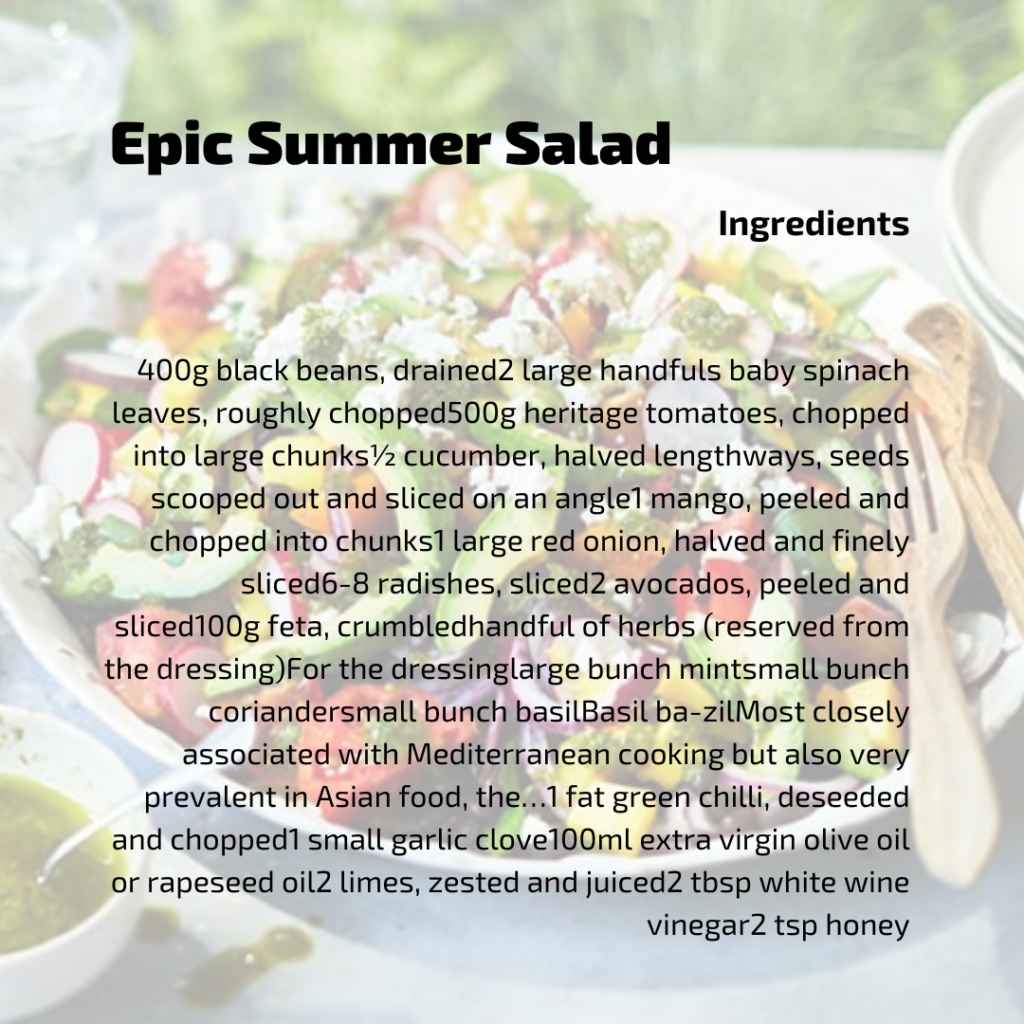 Epic Summer Salad
Make the dressing by blending all of the ingredients in a food processor (or very finely chop them), saving a few herb leaves for the salad. You can make the dressing up to 24 hrs before serving.
Scatter the beans and spinach over a large platter. Arrange the tomatoes, cucumber, mango, onion and radishes on top and gently toss together with your hands. Top the salad with the avocados, feta and herbs, and serve the dressing on the side.
Server with steak or even lamb kebabs.
Salads, Boring?
Salads are quick and easy to make, moreover, they don´t have to be bland and boring.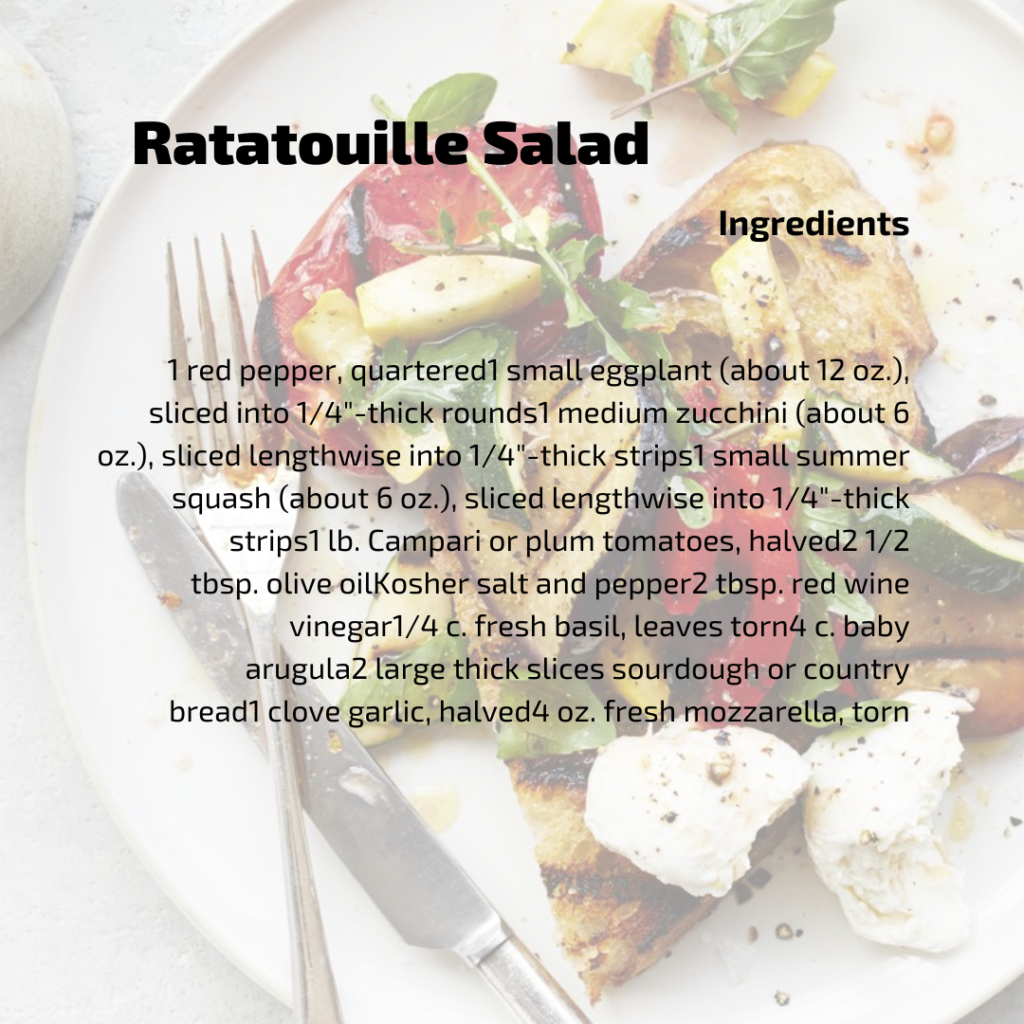 Ratatouille Salad
Heat BBQ to medium-high.
In a large bowl, toss the vegetables with 1 1/2 tablespoons oil and 1/2 teaspoon each salt and pepper. Grill until lightly charred and tender, 3 to 4 minutes per side for the pepper, eggplant, zucchini, and squash, and 1 to 2 minutes on the cut side only for the tomatoes. Transfer the eggplant and tomatoes back to the bowl and the rest of the vegetables to a cutting board.
Slice the peppers, zucchini, and squash and add to the bowl. Gently toss with the vinegar, basil, and arugula.
Brush the bread slices with remaining tablespoon oil and grill until lightly toasted, 1 to 2 minutes per side, then rub both sides with the cut side of the garlic clove.
Cut each slice of bread in half and transfer to plates. Spoon the salad and any juices over the bread, then top with the mozzarella.
My mouth is watering as I type, this is a great Veggie Dish. Just remember to keep it separte on the BBQ for your Veggie friends. Alternative, you can get a grill plate then sits on top of your BBQ which is what I have for my veggie friends and is only used for them. It´s my Jan grill.
Perfect for Spain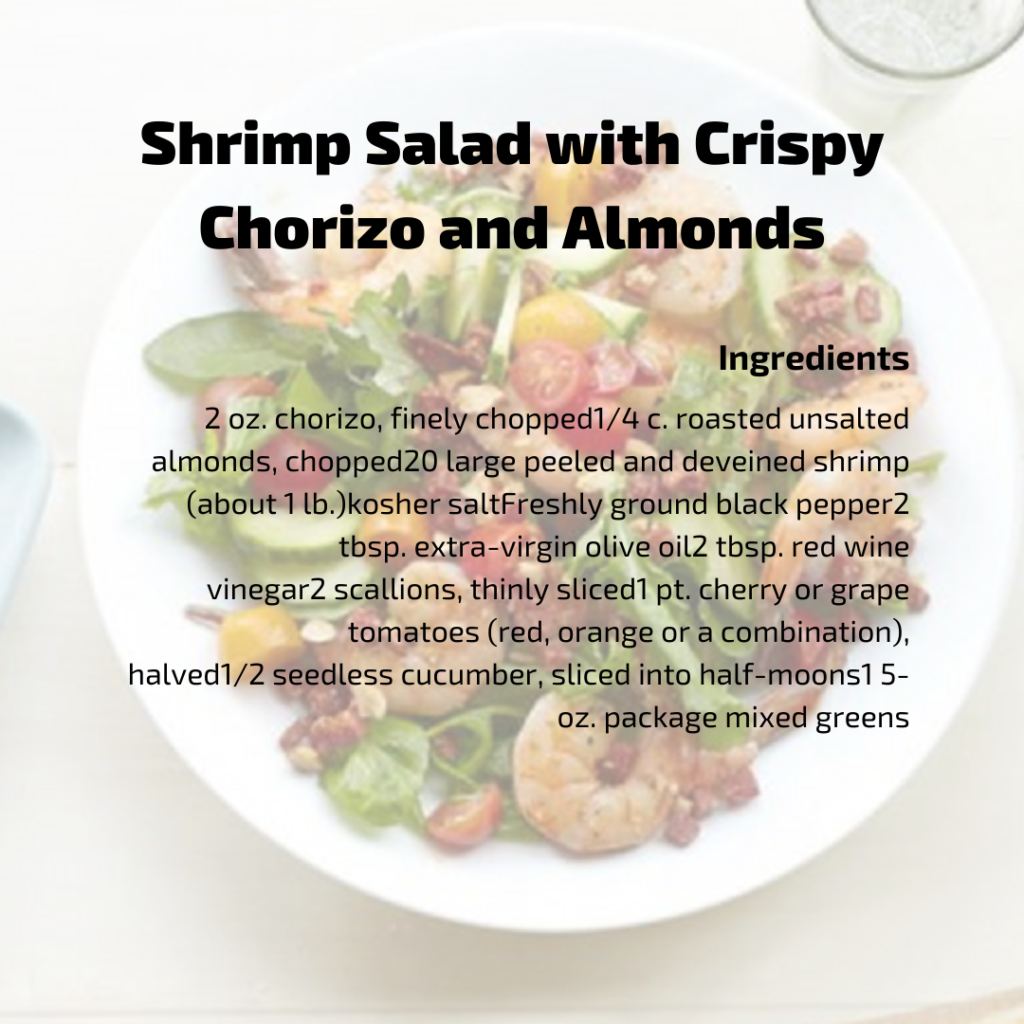 Shrimp Salad With Crispy Chorizo & Almonds
Heat a large cast-iron skillet over medium heat. Add chorizo and cook until it releases its oils and is crisp, about 5 minutes. Using a slotted spoon, transfer to a bowl (leaving the oil behind) and toss with almonds.
Season the shrimp with 1⁄4 teaspoon each salt and pepper. Increase heat to medium-high, add shrimp to skillet and cook, turning once, until opaque throughout, 2 to 3 minutes per side. Transfer to a plate.
In a large bowl, whisk together the oil, vinegar, and 1⁄4 teaspoon each salt and pepper. Add scallions, tomatoes, and cucumber and toss to coat. Gently toss with the greens. Serve shrimp over salad and sprinkle with chorizo-almond crumbs.
Using my Telitec Fibre Internet to search for new ideas on Summer Salads is just one benifits of internet. I love it!