With more attention than ever on improving well-being, massage has become a popular treatment. It provides every one with the most innovative, relaxing, and thera peutic, healthy and personal care to keep them stressful moments away. Here is just one we found (and everyone in the office wants to try!)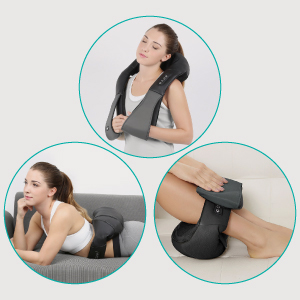 Massages on Multiple Body Parts
The ergonomic U-design fits properly to your neck and shoulder areas, delivering the same relief to all your tired and tense muscles as a masseur does.
Back Massage
By lying on a sofa or a bed, you could enjoy a full back shiatsu kneading massage, well getting rid of the knots!
Waist and Leg Massage
This versatile massager can also be adjusted to work on waist and leg areas to help reduce muscle aches.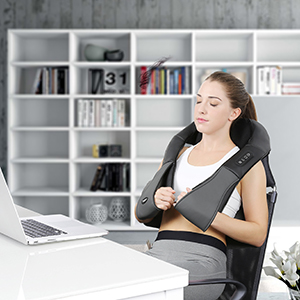 Relax at Anywhere and Anytime
At home
Enjoy the massage freely at home, Saving time and getting no hassles to find spas or salons.
In the car
It comes with a car adapter. You could get an ultimate massage when seated in the passenger seats. Just remember not to use the massager while you' re driving!
In the office
Come and get your personal relaxation during the breaks. It will refresh you too.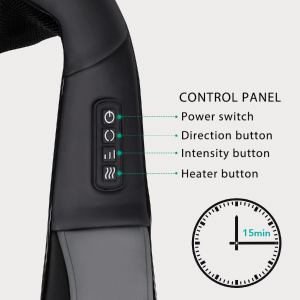 3  Massaging Intensity Levels
There are 3 modes to choose from: low, medium, and high. Come and get an ideal customized massage now!
Timing Function
Programmed with auto-off function (15 minutes) and overheat function, the massager offers you a safer user experience.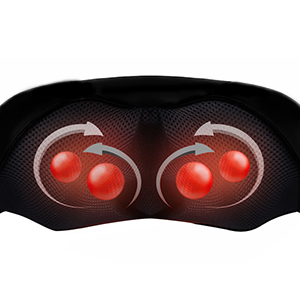 Deep Kneading Massage
The 8 massage nodes help to work wonders to relieve muscle pains, knots, and muscle tension.
Optional Soothing Heat
The advanced heating function adds to the further relaxation, helping you relax by promoting blood circulation.