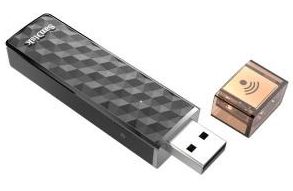 This is no ordinary USB stick! This one has wireless capability, meaning you move and access your files at any time without ever having to use a cable.
You can still plug it in like a normal flash-drive and move your files, photos, music, and movies between the drive and your computer. Or, you can switch on the wireless connection and move files between your devices and the drive without using a single cable, and without using your computer as a middleman, saving you time.
The drive has an easy-to-use app that you can download onto your devices if you want, making the connection even easier. This lets you to move files onto the drive from multiple devices from a distance, wirelessly. This connection works both ways, so you can also access the files on the drive through your mobile phone or tablet at any time, with little or no delay, making it perfect for accessing large files while on the move. You can watch a movie on the train, access your work files, listen to your music on the beach – whatever you need!
The app has many other great features, too. For example, you can set up backups directly from your camera roll, so that every new photo is moved onto the drive automatically when your device connects.
---
The 64GB Sandisk Connect is available directly from the Telitec shop in Moraira for just €99.82 (inc IVA), or you can contact us on sales@telitec.net to get one delivered.