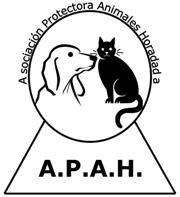 Name of Charity: APAH
Registration No:  G53495313
Contact number: Natasha Colby / 616210850
Contact email address: natasha.colby@hotmail.com
Address: Jose Sanchez 10, Pilar De La Horadada
Brief description: 
APAH was registered in 2000 as an Animal Rescue Charity, responsible for rescuing, rehabilitating and re-homing abandoned, neglected and abused dogs and cats in the South Costa Blanca area.
The animals in APAH's care are rescued from all sorts of traumatic situations, they receive veterinary care and are never put to sleep unless a vet advises there is no alternative.  When old enough, all APAH's dogs and cats are neutered, normally prior to adoption, unless they are adopted as puppies or kittens, and then new owners are advised to have their pet neutered.
The dogs rescued by APAH are cared for in their Kennels and the cats are cared for in their Cattery.  Both of these are staffed and maintained by volunteers and the need for new people to help is ongoing.  There are never enough people to do the work that is needed.
APAH receives no official funding, surviving only on money earned through the sale of donated goods in its two charity shops, money collected in donation tins, and money from fund-raising events.
The two charity shops, located in Pilar de la Horadada and San Miguel de Salinas are also staffed by volunteers, and again there is a constant need for new people to offer their help.
Next Event: