Boldly go where no wireless meat thermometer has gone before with up to 50 m of Bluetooth extended range. MEATER+ is the perfect cooking tool for outdoor BBQ pit masters who need to monitor their meat and pit temps from afar. For the chef cooking with an oven or stove, the long range MEATER+ will provide peace of mind that the roast will be cooked perfectly even when stepping out of the kitchen.
Extended Bluetooth Range 50 Metre
Connectivity Suite: Monitor your cook from a phone, tablet, Alexa, computer, over Bluetooth, WiFi, or the MEATER Cloud for the best wireless range.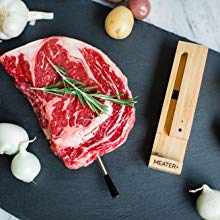 2 Sensors, 1 Probe: Dual temperature sensors can monitor internal meat temperature up to 100°C and ambient / external temperature up to 275°C simultaneously.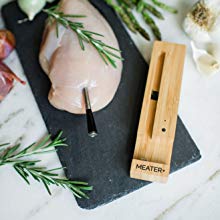 Guided Cook System: Walks you through every step of the cooking process to guarantee perfect and consistent results. You can also set up custom alerts / notifications based on temperature and/or time.
Advanced Estimator Algorithm: Can estimate how long to cook and rest your food to help plan your meal and manage your time.