Every city and sizeable town stages a parade, and one of the biggest, in Madrid, draws crowds of 100,000 people, including thousands of children eager to catch the sweets thrown into the crowd by the three kings themselves.
The oldest Three Kings parade in Spain has taken place in Alcoy, Alicante since 1885.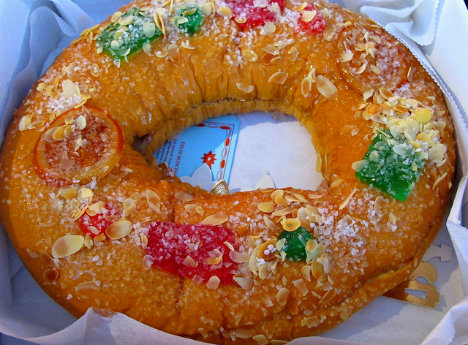 Roscón de Reyes
On January 6th, Spaniards typically tuck into a Roscón de Reyes, a Three Kings cake baked in a ring and decorated with candied fruit and hiding a, sometimes lucrative, surprise.
A small figurine of the baby Jesus, or a little toy for children, is typically hidden inside the dough, as is a dry fava bean. Whoever finds the toy is crowned king or queen of the celebration, while the one who finds the bean has to buy the Roscón next year.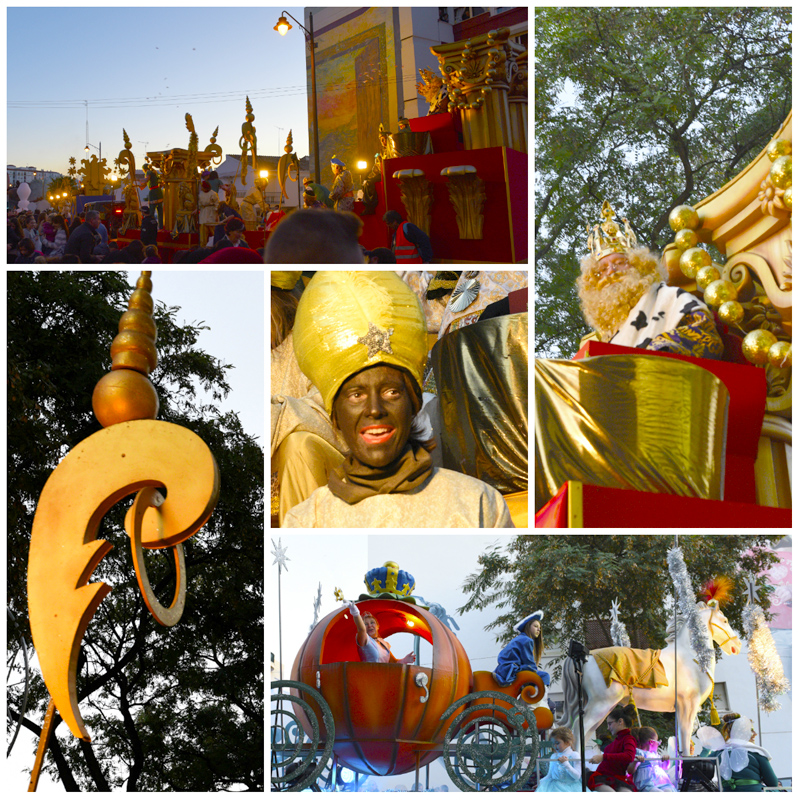 Melchor, Gazpar and Baltasar
The African king, are magically able to appear simultaneously throughout this entire land as evening falls on the Iberian Peninsula, and they don't come empty handed. As their royal magesties parade about town with their entourage of locals smiling and waving from trucks, trailers and even floats (depends on local resources) they dutifully toss out handfuls of sweets to the children waiting in the streets at they pass. If you take little ones to the parade, be sure to bring along bags to handle the accumulation of little treasures they will certainly want to take home.
That same night of January 5th children are supposed to leave their shoes out the night before to receive the gifts. However, nowadays some families are actually turning to the Christmas tree as the place to pile gifts as the Kings' spending power grows and shoes can no longer support the weight or volume of the their delivery.