Facebook has apologised for a bug that caused users' default privacy settings to be overruled and their posts set to 'public' rather than 'friends only'.
The bug was active between May 18th and May 27th. You may have already received a warning from Facebook recommending that you check the settings on your recent posts: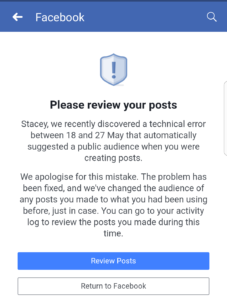 A Facebook spokesperson said:
"We have fixed this issue and starting today we are letting everyone affected know and asking them to review any posts they made during that time. To be clear, this bug did not impact anything people had posted before — and they could still choose their audience just as they always have. We'd like to apologize for this mistake."
Checking Your Recent Posts
If you post often on Facebook, there's an easy way to check for posts that have accidentally been set to public rather than scroll through your whole news feed. You can select to view your profile as a member of the public – i.e. not one of your Facebook friends – and this will show you which posts have been set to a low privacy setting. On the mobile app, view your own profile and then click the eye symbol that says 'View As'. On a computer, select the 3 dots next to the 'Activity Log' button and select 'View As'. This shows you your profile as a stranger can see it.
Changing Your Default Privacy Settings
If you've never checked your default post settings, this is the perfect time to do it. Take a minute to do a quick Facebook privacy checkup (instructions here). Make sure you set your 'next post' option to 'friends only'. If you have any posts you want to be seen by anyone and everyone, for example for work, charity, events, awareness etc. then just set those posts to 'public' when you write them.