Moving to a new country can be hard, so it's lucky that there are some great apps that will make everything easier. We previously rounded up a list of great apps that we recommend to newcomers here, such as language-learning and map apps. Here are a few more to help you get out and about, meet new people, and eat like a local!
El Tenedor (The Fork)

Getting out and exploring is key to settling in and enjoying your new country of residence, and finding great restaurants is a great way to start feeling at home. This app is affiliated with TripAdvisor so the database of restaurants is huge – you're sure to find some great new local hangout spots! The Fork is perfect for occasional visitors, too.
Patook
Patook is a 'dating' style app with a difference – the idea is to make connections between people that are ONLY looking for friendship. In fact, the app has a flirt-detector to make sure every interaction stays strictly platonic!
Happy Cow App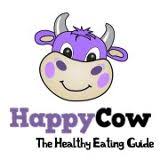 Spain's cuisine isn't traditionally known for being very vegetarian-friendly. This app helps you find restaurants that have veggie and vegan options on the menu in your new local area. Knowing where you can eat will be especially useful if you're brand new and still learning the language, so will find it difficult to ask.
Triposo
Useful for travelling as well as for new arrivals, the city guides on Triposo help you to find all the hidden gems usually known only to the locals.
---
To use these apps, you'll need a smartphone. Telitec can help you choose an easy-to-use phone and advise you on the setup and basic use. To ask for our help, use the 'Tell Me More' form on this page, email sales@telitec.net, or call us on  965 74 34 73 or 902 88 90 70.