Facebook's privacy problems have been all over the news recently. This may make you want to #deletefacebook, and indeed many people have. But for some, Facebook is a valuable means of staying in touch with friends and family. Making the break can be especially hard for expats living abroad.
If you like using Facebook but are worried for your privacy, then there are some simple things you can do to protect yourself.
Turn Your Basic Security Settings On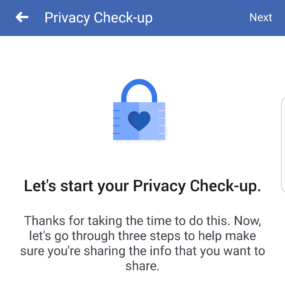 Facebook's deeper security settings can be a bit of a maze, but there's an easy way to cover the basics. If you're using a phone app, click the settings menu, 'Privacy Shortcuts' and then 'Privacy Check-Up'. If you're on a computer, just click the question mark at the top of the page and select 'Privacy Check-Up'. You'll be guided through a few screens where you select who can see the key parts of your data. We would usually recommend that you change everything to be visible to your 'Friends' only, but some key things such as your email should be made visible to 'Only Me' (and maybe your year of birth if you'd like to keep that quiet!)
Check App Settings
Navigate to your App Settings page – or if you're logged in on the device you're reading this on, you can click here. You'll see a list of apps that have previously asked for your permission to link to your account. These could include quizzes and games. Any that you don't explicitly trust or recognise, remove.
Scroll down further to 'Apps Others Use' and uncheck all the boxes. This explicitly tells Facebook not to share info with any apps that your friends are using (which is how the data was passed from Facebook to third parties in recent years.)
Be Aware of Scams
Some of Facebook's privacy problems are due to other, dishonest users. Read about avoiding scams on Facebook in our blog here.
April 2018 – New Security Settings Notification
You may have already gotten a notification asking you to review your security info, headlined 'Protecting your information'. Read through the questions carefully and refuse permission for any information that you don't want saved or passed on.