If you want to treat someone in your life this Christmas then Telitec have got a lot of gifts for you to choose from! From simple stocking fillers to more lavish gifts like phones or tablets, we've got you covered.
Alcatel U5 Smartphone – 120€ inc IVA
This smartphone is often described as 'entry-level' meaning it's perfect for people of all ages who have never had a smartphone before and find the prospect daunting! It's a great way to introduce simple apps for keeping in touch with family and friends overseas such as WhatsApp and Skype.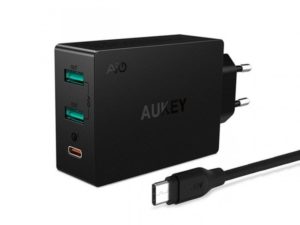 3 Port Plug – 31.93€ inc IVA
This plug solves a problem you might not even know you had. It has 3 USB charging ports, meaning you can charge 3 devices at once from a single power socket. One of the ports has special 'Quick Charge' technology which charges up to 75% faster. Find out a bit more about this product here.
iPhone 6 – 484€ inc IVA
If you want to really treat a special person in your life, then we've got a great price on the brand new iPhone 6. It's a great iPhone, with a good quality camera and hi-tech extras like a fingerprint reader on the home button to unlock…but without the 1000€ price tag of the brand new iPhone X!
Lenovo Tablet, 10″ – 189€ inc IVA
These tablets are simple to use and can have most apps downloaded onto them. The handy size is a good compromise between being portable but also large enough to use for watching videos or easily reading text. It's front camera also makes it great for making video calls, so it's a lovely gift for someone with loved ones living in other countries.
Sandisk Connect – 99.82€ inc IVA
This is no ordinary USB stick! This one has wireless capability, meaning you move and access your files at any time without ever having to use a cable. You can connect to it from your phone, tablet or computer and access files, like movies and music, wherever you are without having to use the memory on your devices. You can find more information about this great product here.
We've also got a range of fun gadgets that are perfect stocking fillers for kids (and big kids!) like drones, fidget spinners and bluetooth speakers. However, we're only stocking these at the Christmas fairs that we're attending this year (for the full list of events, click here!)
If you'd like more information about any of the gifts listed here, then please either pop into our Moraira office or get in touch on sales@telitec.net, or by calling 965 743 473 / 902 889 070. And if you see a Telitec stall at one of the many fairs then come say hi and ask about our Xmas gifts!