DEHESA DEL ÑANDÚ GARNACHA 2014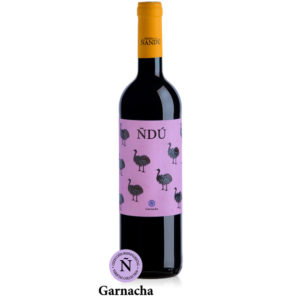 Available exclusively from Vinalia at Bodegas Leopoldo, Ondara 6·75€
In November, my head is firmly into red wine, metaphorically speaking, of course! As the nights draw in, the temperature drops, the real log fires are lit and the duvet beckons for later, there's nothing more warming and comforting than a good glass of red wine!
Spain has a 2,000+ year history of red wine making and indeed it's the reds that placed the Iberian Peninsular firmly on the World Wine Map. Originally, the reason for this was because of the high quality of the red wine grape varieties indigenous to Spain. Whilst it's good to see that international varieties have also made their home here, it's also encouraging to note that wine made from Spanish grapes continues to provide wonderful drinking!
One such variety is Garnacha. Though known in France, particularly, as well as in other parts of the world as, Grenache, it is in fact indigenous to Spain. In truth, because of near-sighted over planting and some 'quick-buck and damn the consequences' wine making practises from unscrupulous producers, Garnacha, did take a fall in quality, and consequently in reputation and sales.
However, Garnacha is back! Ñdú, as this wine is affectionately abbreviated, is an example of what the variety can offer when treated with respect. Made in Aragon, within the boundaries of a nature reserve specialising in protecting birds (as well as other creatures) the producers of this wine feel that they also have a duty to conserve the fauna, flora and the very soil in which the plants live.
Dehesa del Ñandú is a 'roble' wine, meaning that it has enjoyed a short time with oak, just two months in this case. The aim is to let the primary fruit aromas and flavours come to the fore, with just a little depth and body being added by the wood. It's a successful balancing act. You'll note a slight violet floral fragrance and dark cherries on the nose with a juicy fruity mouth presence, and a slightly mineral finish.
Enjoy!
Colin Harkness
International & National Wine Judge,
Writer, Broadcaster & Critic
Twitter @colinonwine
Facebook Colin Harkness