On Sunday the 10th of July the Telitec technical team in cooperation with 20000 Leguas left their computers at home and descended to the bottom of the ocean.
After having gathered around by Algas beach in Moraira at 9 in the morning, all the gear was prepared for the first group to go under water at 10 am to discover the beautiful Mediterranean from underneath it´s surface.
The techies were assisted by a team of fully qualified divers from 20000Leguas, a local diving school based in Javea.
The dive took about 1 hour and a depth of approx. 7 meters was reached, which is pretty successful for the first time divers among us.
After the first group returned from their experience the second group started to descent for their dive.
To finish a great morning the team had a couple of cold beverages at the Algas beach bar and looked back a successful diving experience.
If you are interested in taking a try dive we really recommend to this with 20000Leguas and if you mention you read our article they will offer you this for a discounted price of only 50€. (which can be deducted again if you then decide to do a full course and beco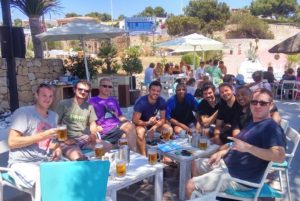 me a licensed scuba diver)
Email: info@20000leguas.es Mobile: 606027309   Tel: 865642972