London Tech Week, which was held at the Gherkin recently, revealed that the way we pay for goods is shifting into a new era of technology. Those episodes of Star Trek from all those years ago now seem to be closer to reality than we could of imagined. Prepare yourself for a new wave of contactless products that require minimal effort from the user to pay for their goods.
We will be seeing contactless rings and wristbands, Selfie Pay and iris scanners (cant wait for that one)!! Paying has never been so fun!
Let's start with Selfie Pay. Great for selfie lovers!!! This is a free app that works on facial recognition, allowing you to authorise transactions using your face. Would knew vanity could be so useful?? In case you're wondering about the security, the app requires you to blink so that it knows that it's really you and not somebody holding a photo of you up in front of it.
Mastercard first tested the idea in 2015, followed by Amazon in March this year who looked to patent their Selfie Pay. The patent briefs how a consumer would use their selfie to authorise purchases instead of a password. By using your biometrics, the data transferred is based on unique individual characteristics such as eyes, face or fingerprint.
As consumers are making more purchases online now than ever, more products like Selfie Pay are coming along to ease the process of verifying transactions. Facial recognition is thought to be more secure than passwords, which can be hacked, not to mention the chore of punching in and remembering long passwords.
However, if you feel a bit silly holding your phone up to your face and blinking whilst taking a selfie with a queue of people behind you, then you might want to consider another method of payment such as "Kerv", – the world's first contactless payment ring. Kerv proves that it's not just biometrics that are changing the way we pay for things.

A simple, clean-looking piece of technology, Kerv is made from aerospace-grade zirconia technical ceramic. It comes in either black or white with a choice of colours on the inside, but the outer shell of the ring is lightweight, extremely scratchproof and is hypoallergenic.
It's basically a payment card in a ring, which is read by the payment machine, avoiding the need for you to get your purse/wallet/card/phone/PIN number out. It enables you to make purchases up to the value of £30 with a simple move, no more effort required! Here are some of the main benefits:
You can use it anywhere in the world that accept contactless payments
You always have it to hand (literally!)
It works stand alone – no need to pair it with a phone – when they say contactless – they mean contactless
It NEVER NEEDS CHARGING
It's waterproof
It's made from one of the most scratch resistant materials on the planet – zirconia ceramic
For even more added convenience, you can use the Kerv ring on many global cities' mass transit systems such as the London Underground, and offers instant sharing capabilities of emergency, medical and contact details (only by using an NFC-enabled phone, plus one-touch access via compatible NFC locks and security systems).
Philip Campbell, the man who founded Kerv said, "Currently, wearable payment devices are either eye-wateringly expensive or thoroughly unattractive. But the biggest issue I have is that they're all worn on the wrist, which has to be placed flat against the contactless reader in a way that feels extremely unnatural and awkward. With a creative background – plus eight years' experience in payments – I felt we could do better. So we did, designing Kerv to be the most ergonomic, natural and convenient contactless payment method possible."
Kerv is available for order from July 2016 (costing around £50/€60). Although a ring may be a great solution for some, there are others who prefer a less constricting wearable such as a necklace or bracelet. Such as…the "Nymi wristband".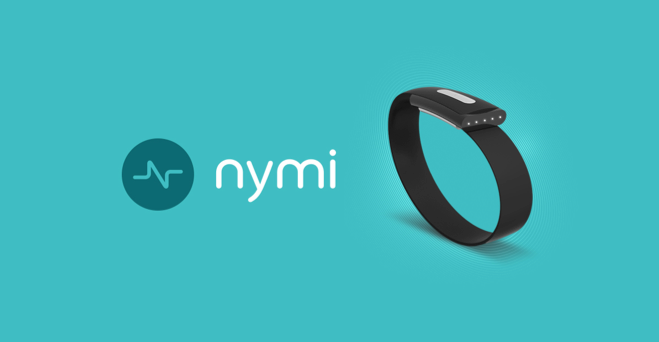 Tapping into the biometrics theme again, the Nymi Band uses your unique heart rhythm to identify you. Using this as a single biometric authentication event, it creates a network around you through it's Bluetooth® Low Energy and NFC transports, which once activated, constantly relays credentials received from Apple's Touch ID®, and it's own unique heartbeat authentication technology, as well as and other strong authentication methods. It can also be used conjunction with any application (such as Selfie Pay), device or other service for authentication methods. You then only need to swipe the wristband in the proximity of the payment device and the verification is securely authenticated.
It is important to remember that the device works by reading your heart rhythm not your heartbeat, so if you've run up five flights of stairs to the office, it won't affect your authentication reading.
These products are either available or are imminent. But what's coming in the future?
Diebold, an ATM manufacturing company announced their latest concept at the Money20/20 payments conference. They introduced the future ATM as a screen-less, self-service machine that is up to 35% smaller than traditional ATMs.
There is no card reader and no PIN, which leaves nothing for thieves to extract data from. How it works is by scanning your iris as authentication. As there is no screen, your transactions are sent to your smartphone, again another step up in security, and your authentication can be either via iris-scan biometric technology, or by near field communication (NFC) as they walk up to the machine, or by QR codes.
Diebold claim that this new machine (named Irving) offers increased security and speed, with cash withdrawals completed in ten seconds. Card fraud is drastically reduced as the transaction is authenticated using your smartphone.
Irving is still at the testing stage at the moment but with the increase of electronic payments and more innovative payment methods, it seems ATM machines are on the decline. Perhaps a paperless future is not too far away…