Samsung fans are in for a double treat with the newly released Gear Fit2 fitness band and Gear IconX earbud set. Offering perfect harmonisation between the two products, they have been cleverly launched within a short time of each other. The first Samsung Gear Fit was launched two years ago so this latest release is an overhaul of the last one.
Runners and fitness fanatics may speed up the pace a bit when the Samsung Icon X wireless earbuds are released some time in July, as there are some funky features to put to the test. The two buds, which are completely wire free and come in three different sizes, become activated once placed in a person's ears. They can then be used by either tapping or swiping the buds, to control which music is being played, and other functionalities….although it does make you wonder how you are supposed to trawl through hundreds of songs with taps and swipes?
Available in black, blue or white you will find that they don't look too different from your bog standard earbuds except they have a bulky triangular shape attached to them (they do come with different sized ear wingtips for comfort). This is where the 4GB of memory is located (that's up to 1,000 MP3s) and provides for the Bluetooth 4.1 connectivity. Thanks to the inbuilt memory you can store music directly to the headphones, avoiding the need to take another device out with you.
The earbuds also contain an inbuilt accelerometer and heart rate sensor, which can be used independently when exercising and includes a charging case that will top up battery life if you are out for a long period of time. They each weigh 6.3 grams and the buds both have Dynamic Speaker drivers for a great quality of sound. Gear IconX headphones also link up to "S Health", which is Samsung's own fitness monitoring program, and they identical compatibility with other Android devices. There's also a handy Voice Guide feature, which is available in 15 languages and gives you information about your workout as you are exercising. It also syncs perfectly with the Gear Fit2 which brings us on to the latest release…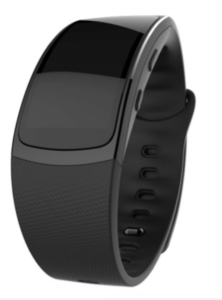 It's now available for a price of around €240 which is reasonably priced considering what you get in return. Available in blue, black or pink, Samsung claim that this design is more ergonomic then its predecessor with it's 1.5-inch curved Super AMOLED display made up of a 432 x 216 pixel resolution. It's available in two sizes: small (125-170mm wrist sizeand weighing 28 grams) and large (155-220mm and weighing 30 grams).
Included in the more ergonomic design is a screen which fits the band better than before (the previous one was slightly lifted from the band), and it is sturdier than before, with a more textured, sleek band.
On the inside, it runs on a dual-core 1GHz processor, with 512MB of RAM which supports many types of audio files including AAC, WMA, WAV and MP3.
The Bluetooth 4.2 connectivity means that you can connect to your wireless (soon-to be-released Samsung) headphones and not require a phone when you are out exercising….great for people who don't like to carry much when they are running. Other features include GPS location, barometer, gyroscope, heart rate monitor and accelerometer. Swimmers will be interested to know that the Gear Fit2 is IP68 certified which means it can be submerged down to 1.5 meters for up to half an hour and has a 200mAh battery.
The brand new Auto Activity Tracking assesses which exercise you are doing and then arranges its data by prioritising it to suit, so basically it senses if you are running, rowing, cycling or walking. The built in music player avoids the need for any other device while working out, although you can hook it up to another device (Galaxy Android 4.3 and it is compatible with non Galaxy Android 4.4 and above) so that you can link it to S Health.
Although the Samsung Gear Fit2 is definitely a better upgrade than the original release, the actual tracking qualities are the same, although as you can use it independently to your mobile phone is a big plus in being able to carry fewer devices.