CARE TINTO ROBLE 2014 DOP CARIÑENA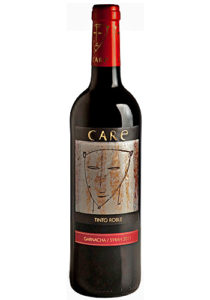 Available at Supermercados Pepe la Sal, Moraira, priced at 5·10€
Just because it's now officially Summer, it doesn't mean we have to forsake our Red wines, in favour of chilled Rosados and Whites. The more so, if we choose a red that goes perfectly with BBQ food, and can be chilled a little too!
Care Tinto Roble 2014 ticks all the boxes! Pronounced Ca (with a hard 'a' as in 'at') Ray', Care is the old Roman name for the area from whence this wine comes – Cariñena, near Zaragoza. (Stick with me and you also have History and Geography tips!). The name also means 'flat face', which, as you can see, is depicted on the label – as with all of their wines in this range.
The 'Roble' part of the name means that this wine has spent a short time in oak barrels, deliberately not long enough for it to be called a 'Crianza' but for sufficient time to give the wine a little extra body and character – to stand up to those BBQ flavours!
It's made with the Spanish Grape Variety, Garnacha, and the French, Syrah, and it's quite clear that these two varieties are happy bedfellows! For me the great attribute that Cariñena wines share is their exceptional fruitiness! Hold this in your mouth for a few seconds before swallowing and you'll recognise how juicy-fruity it is!
However, the time in oak also gives the wine extra presence, making it a wine to be enjoyed with food, whilst its soft tannins make it so easy to drink. This latter advantage also allows the wine to be placed in the fridge for perhaps an hour before drinking, if you'd like it to be even more refreshing on these hot summer days!
Enjoy!
Colin Harkness
International Wine Judge,
Writer, Broadcaster & Critic
www.colinharknessonwine.com