SPANISH GUERRILLA WHITE ALBARIÑO 2015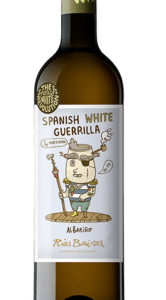 DOP RÍAS BAÍXAS
Available at Bodegas Blasco, Teulada, priced at 5·00€
Mention Telitec and you'll enjoy a 10% Discount!
Wine can be fun – but it's not just the label that convinced me to recommend this wine as the Telitec Wine of the Month for May!
Vintae, the rebels who make this wine had the audacity to originally set up shop in the middle of the rolling hills of La Rioja – and defy the claustrophobic rules and regulations of DOCa Rioja by making white wines using grapes that are not permitted by the DOCa. 'Guerrilla Warfare' broke out as they were told that they couldn't use a variety of different, well, varieties! They told the DOCa to Cork Off and got to work, making fine wine without their blessing!
I've tasted their full range (it's tough, but someone  . . . ) both from the Rioja Area, and others, like this one which carries the much coveted logo of DOP Rías Baíxas, home to the wonderful Albariño grape variety. I can recommend them all – but I had to choose just one for this month's special wine.
I opted for an Albariño – a white wine, following last month's rosado recommendation, and when you taste it, you'll know why! Grown in the hills of 'Green Spain' Galicia, Albariño has become famous over the last 20 years, when before, it had been a closely guarded, local secret.
When the locals (who knew how florally fragrant and tropical fruit driven were the wines made with Albariño) realised that their young-folk were leaving the area to find work elsewhere in Spain, they knew they'd have to let the cat out of the bag and allow the wine writing fraternity to taste the jewel in their rather sodden crown (it's called Green Spain because it has the highest rainfall in the country!).
The result was a reverse in traffic from the North West, as well as a considerable reverse in fortunes. Albariño arrived on the world wine scene, trumpeted, quite correctly, as a wonderful drink, but also as one that has to be just about perfect with all manner of seafood; and is capable of ageing too. Albariño has it all! Salud!
Colin Harkness
International Wine Judge,
Writer, Broadcaster & Critic.