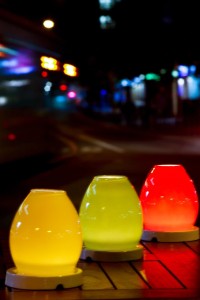 The New AMBIENTO Candle Lamp, is designed to create light that touches your senses and enhances your dining experience making it truly unique. Light that forms a pleasurable and exclusive ambiance where you can relax and celebrate the day. Light that illuminates, inspires and connects. Light that makes a perceived difference through the invisibility of the candle.
This candle lamp consists of two pieces. The saucer is made of solid porcelain and gives the candle lamp a stable base. The lampshade is made of silicate glass, a very durable type that is resistant to shocks and scratches. The silicate glass gives the lampshade a premium glossy finish with deep rich colours.
Lampshade and saucer can be combined in various colours and operated with tealights and electrical rechargeable bulbs.
Indoors the candle lamp provides an elegant glow, outdoors it is eye-catching and fully windproof.
Lampshade
The lampshade is made of hand-blown silicate glass. The glossy finishing gives a shiny and glowing light. The conical form of the shade intensifies the light effect of the tealight, thus making the light full and round without shadowing.
Available colours: pearl / strawberry / orange / lime / lemon
Diameter: 11cm (at widest point) / Height: 11.5cm /
Weight: 170g
Saucer
The saucer is made of solid porcelain and can either be used with a small tealight or with electrical rechargeable bulbs. The 3 wind channels in the base of the saucer direct the incoming cold air stream from the bottom to the top of the lampshade, thus ensuring:
• maximum light effect (through a constant stream of oxygen)
• a constant flame (no flickering)
•the tealight is fully windproof and does not go out
Available colours: white / green / red / orange / black
Diameter: 11cm / Height: 1.5cm
Weight: 210g
To find out more visit http://www.enduredesign.com/
Special Offer for all Telitec clients:
4 lamps (mix and match any colour), for 49 Euro, plus shipping costs of 14.90 Euro = 63.90 Eur in total incl VAT (that's a 30% discount from the retail price).