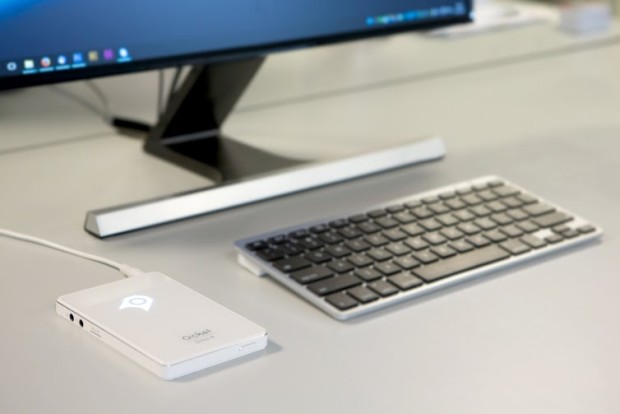 The first complete Windows 10 PC that fits into your pocket
The Ockel Sirius B – A pocket PC as powerful as a desktop and as portable and light as a smartphone.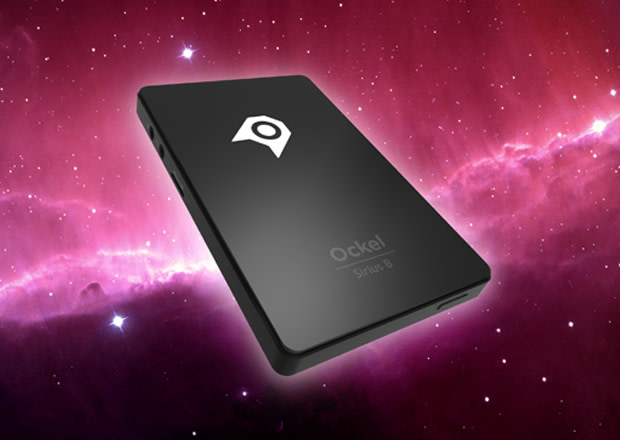 Seriously small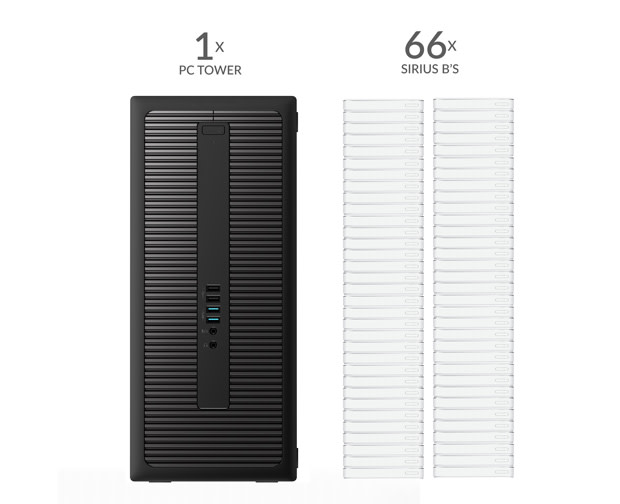 Ockel Sirius B easily fits into your pocket or bag. With a size close to smartphones such as the iPhone 6 and Samsung Galaxy S6 you hardly realize you're carrying a complete computer with you. Use Sirius B  wherever and whenever you want. Connect an HDMI screen, the power adapter and optionally a mouse and/or keyboard and you are ready to go!
Light as a… baseball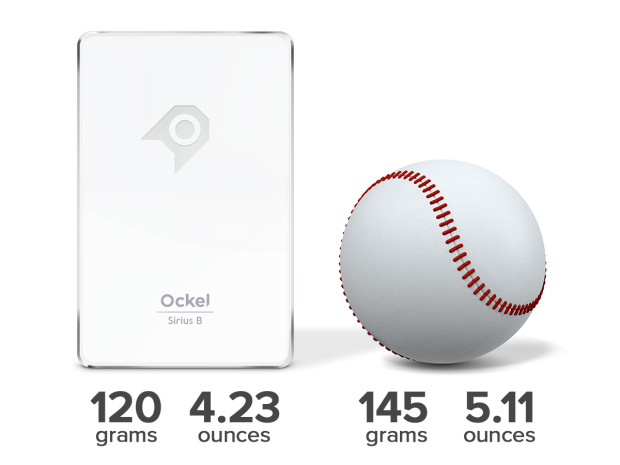 They know that no one likes to carry around heavy stuff. That's why Ockel Sirius B weighs only 120 grams (or 4.23 ounces). This is less than the latest iPhone and the same as a couple of slices of bread. Or a baseball.
Connectivity matters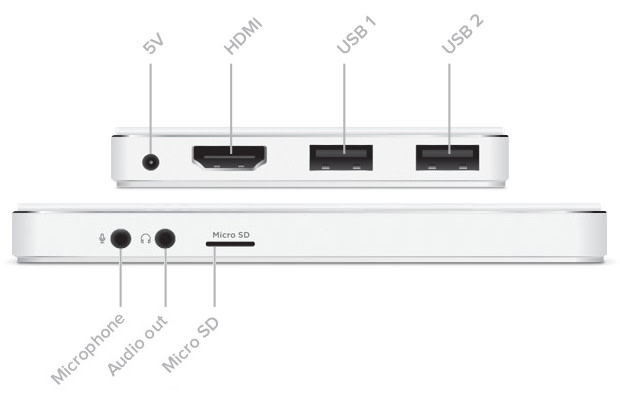 The Ockel Sirius B is equipped with two USB ports, an HDMI port, a Micro SD-card slot and a 3.5mm audio and microphone jack. That means you can connect a keyboard, mouse, speaker or any other external device within the blink of an eye.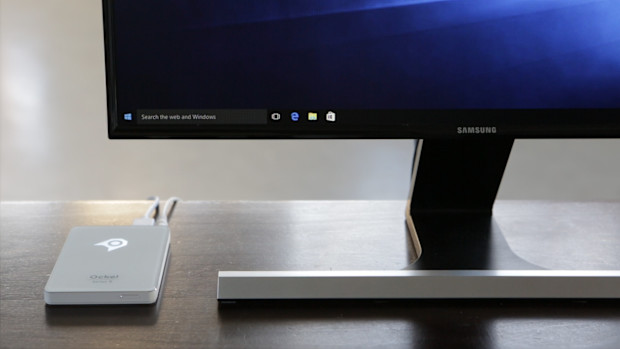 No strings attached
Would you prefer to enjoy the Sirius B without any cables? No problem, the Wi-Fi and Bluetooth chips will do the job. With the powerful Bluetooth 4.0 chip you are able to connect any Bluetooth device to the Sirius B and fast Wi-Fi takes care of everything else. Surf the web or watch an online video without any frustration. It's time to say goodbye to video buffering on Netflix or Youtube!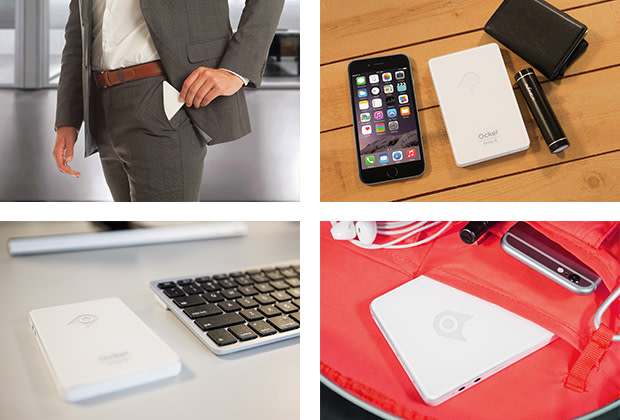 When space is what you need
Need more space? We've got you covered. Extend the built-in flash storage with a Micro SD-card, or connect your own HDD using one of the two USB-ports.
The Sirius B has an easy to reach Micro SD-card slot, which supports Micro SD-cards up to 128GB. That's the equivalent of 42500+  songs, 64000 images or 985 minutes of video!* For your convenience we've added perks with a 64GB Micro SD-card.
*(Average file size: 3mb for a song; 2mb for an image; 130mb 1 minute of HD-video recording)
Millions of applications. At your fingertips!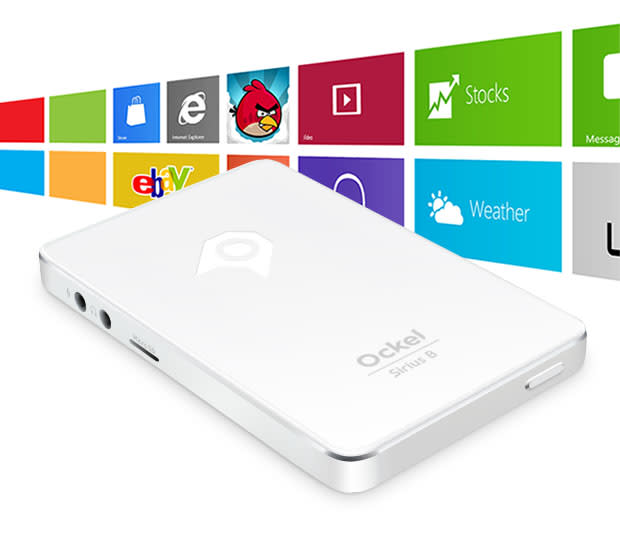 Whether it's Netflix, Twitter, Flipboard or Dropbox: Ockel Sirus B handles it all. The millions of applications at the Windows 10 Appstore will give you the control (or fun) you are looking for.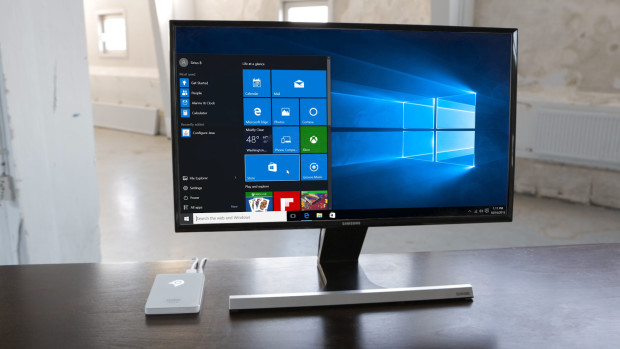 The Ockel Sirius B runs on Windows 10. offer you a perk with the popular Microsoft operating system pre-installed. Would you prefer to do the job yourself? Get one of our 'NO OS' (No operating system) perks for a lower price, so you can install the operating system of your preference.

100% silent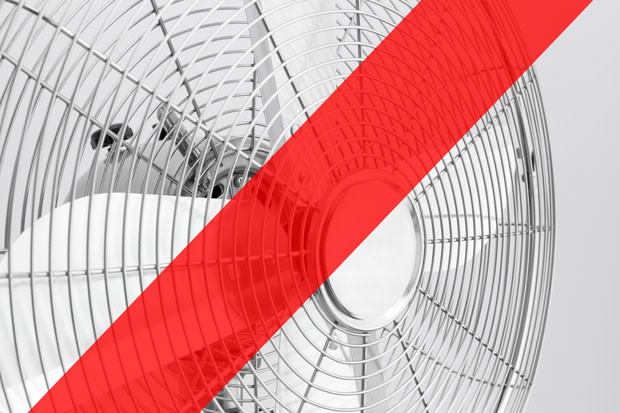 The Ockel Sirius B is designed in such a way that ventilation fans are no longer required. This unique feature combined with flash storage means you can enjoy working in silence and benefit from ultra-low power consumption.
Plug & Play
Enjoy your content on any HDMI screen in three easy steps.
Step 1: Connect the Ockel Sirius B to an HDMI cable and connect the cable to a screen.

Step 2: Connect the power cable to the Sirius B and a power outlet.

Step 3: Start working or playing.


Intel's Rocket Science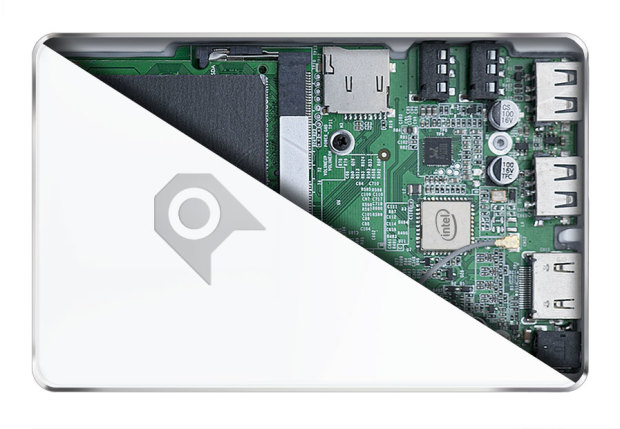 Intel engines power the Sirius B. The built-in Intel Atom Bay-trail quad-core processor, combined with 2GB's of RAM and an Intel High Definition graphics card ensure you have more than enough power to finish tasks at high speed. For those seeking even more power we have introduced the Sirius B Black Cherry, with an upgrade for many hardware components. The Sirius B Black Cherry pocket PC has a Quad-core Cherry Trail Intel processor, 4GB of RAM and a Wi-Fi-AC chip, so you can run more and heavier applications at the same time. Internal memory has been expanded to 64GB and the two USB ports will be USB 3.0, enabling you to transfer data up to 10 times faster. All other features of the original Sirius B (Windows 10, HDMI, Bluetooth 4.0, Micro SD card slot and Audio in/out) are included as well.
Ockel Sirius B Black Cherry
Compare the two versions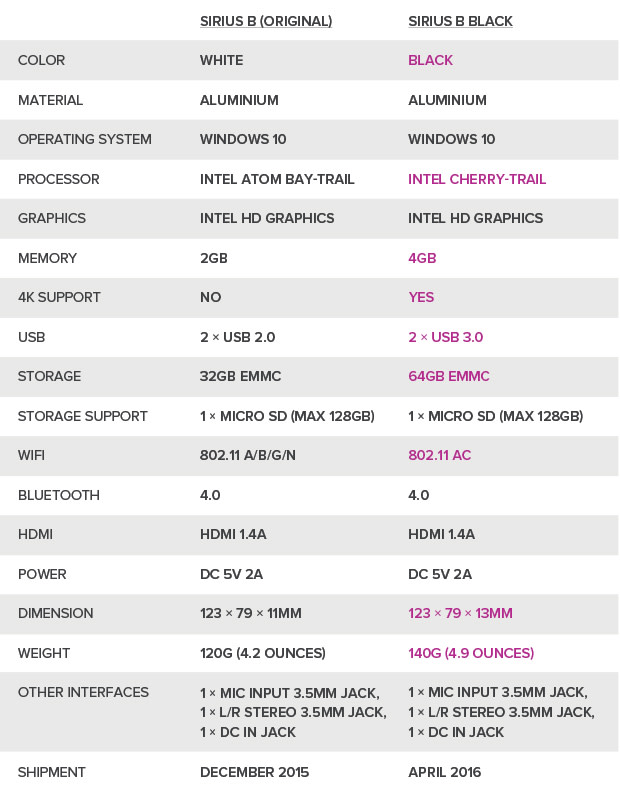 Small, but great for everyone
The Sirius B is great for many people. Freelancers, keynote speakers, students, business owners, travelers and Netflix lovers: Ockel Sirius B is a product that fits basically everyone.