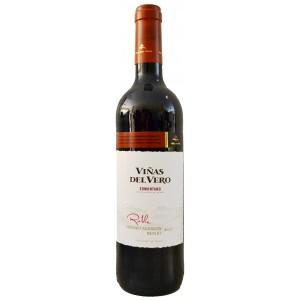 VIÑAS DEL VERO 2014
ROBLE MERLOT/CABERNET SAUVIGNON
Available at Carrefour priced at 5·00€
This month's selection comes from an area of production from which I have never had a poor wine, indeed I've tasted many excellent DOP Somontano wines, of all styles! Nestled in the high altitude hills which are the prelude to the snow-capped summits of the Alps, the vines here enjoy the plentiful Spanish sunshine during the daytime in the growing season, with a much needed respite at night as temperatures quickly drop.
Grapes ripen fully because of the sunshine, whilst crucial acidity is retained because of the dramatic temperature change at night, which also contributes to the bright colouring of the resulting wines. Good wines are made in the vineyard – you can't make a good wine from poor grapes!
Whilst Cabernet Sauvignon adds lovely dark colour to its wines, it's a grape variety that can be harsh and over tannic in youth. Why else was it always recommended to keep cooler climate Cabernet Sauvignon based Bordeaux wines for several years before drinking?
Of course, this is not a problem here in Spain, where sunshine hours are plentiful (and to be fair, it's becoming less of a problem in Bordeaux now that Global Warming is making its mark). So, this Bodegas Viñas del Vero 2014 wine is perfect for drinking right now.
Cabernet's bedfellow here is Merlot, another of the famous French varieties, and it's a super marriage of dark plums, blackcurrant and blackberry fruit. Roble, means Oak, in Spanish. In wine terms, the word is used to denote that the wine has had some time in oak barrels. How long, is determined, not by law, as with the terms Crianza, Reserva and Gran Reserva, but by the length of time that the winemaker thinks best.
Four months in barrel have added some depth to the fruit and a little vanilla and cinnamon flavour, as well as making the wine a fine partner for meat dishes, pasta, cheese and simply as a drink to enjoy on its own!
Colin Harkness
International Wine Judge,
Writer, Broadcaster & Critic.