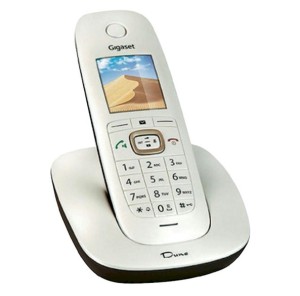 Inspired by the natural contours of a sand dune, a flat and illuminated keypad makes navigating and using this phone clear and simple. The integrated answering machine provides up to 30 minutes of recording time and is simple to use via both the handset and base station. You can also keep up with the number of messages with a message counter on the base station.
With space for up to 200 contacts in the address book, you can keep your social circle at hand – while a large elegant TFT colour display with various screensaver options means you never have to miss a thing. You can also programme two direct access keys for quick access to your favourite functions.
As with all Gigaset phones, an energy-efficient power supply means that the CL540A is easier on the environment by varying the transmitting power from the handset to the base station depending on their distance apart. You can also decrease the transmitting power of the Gigaset Dune's base station by 80% by simply selecting Eco mode. What's more, radiation-free Eco mode Plus switches off the transmitting power whenever your phone is in standby.
For more information on this device contact our Sales Team on 965 743 473.