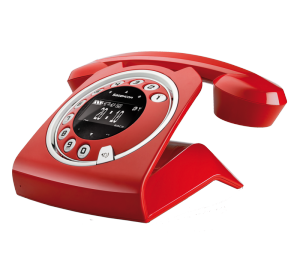 Dial R for retro: Classic rotary telephone spruced up for the digital age.
With telephone technology moving forward at an astonishing rate, it's sometimes comforting to take refuge in simpler times.
This new phone, which brings the classic rotary dial telephone into the digital age, aims to bridge that gap.
Developed by SagemCom, the 'Sixty' pays tribute to the timeless landline design that continues to sit in homes across the world.
However a few design upgrades have been made to ensure it is fully equipped for the 21st century.
Most notably, while the shape of the original rotary dial phone has been maintained, most of its body has gone, making the Sixty much lighter.
Likewise, the idea of buying a phone with a cord in 2011 is almost absurd; so SagemCom have done away with the rotary's trademark coiled cable.
The bright orange device also has a digital display with a touchscreen, can store up to 20 minutes of messages and offers ten hours of talk time.
The Sixty isn't the first phone gadget to take modern telecommunications down a somewhat retro route.
Earlier this year a device that turned an iPhone into an old-fashioned rotary-style handset was released.
And that followed hot on the heels of another accessory that took Apple's phone back to the mid-1980s with a plastic cover designed to make their high-tech gadget look like a 'brick', once the ultimate status symbol.